Clearwater's Very Own Movie Star "Winter the Dolphin"
Winter is a bottlenose dolphin who lives at Clearwater Marine Aquarium, which is only one block from our offices. She is the Star of the film Dolphin Tale, a dramatization of her story. Winter was found off the coast of Florida in December 2005 at age 3 months, caught in a crab trap, which resulted in the loss of her tail. She was fitted with a silicone and plastic tail which enables her to swim normally. She has since become a highly popular attraction at the Clearwater Marine Aquarium (CMA), which led to the film's making.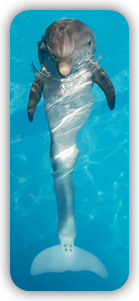 Dolphin Tale
The film based on Winter's story, titled Dolphin Tale, was released September 23, 2011.The film centers around a young boy who becomes friends with the dolphin, and stars Nathan Gamble, Harry Connick, Jr., Ashley Judd, Morgan Freeman, and Kris Kristofferson. Winter stars as herself in the film. Several modifications were made to the Clearwater Marine Aquarium to accommodate her, including a new 80,000-gallon pool. Portions of the movie were filmed in and around Clearwater. Locations included the Clearwater Marine Aquarium, Honeymoon Island, Tarpon Springs, and local news station Bay News 9.
Winter has become the most popular attraction at the Clearwater Marine Aquarium. She is often thought of as an inspiration to children and adults with medical conditions and disabilities. Brock Mealer (brother of Michigan Wolverines player Eliot Mealer), who was paralyzed in a car accident and overcame large odds against him, met Winter in December 2010 to significant press coverage. Books and Nintendo DS games have been published about Winter.
Winter's Story
Winter was caught in a crab trap at approximately three months old in December 2005 (thus her name), in Mosquito Lagoon off the coast of Florida. The rope cut off the blood supply to her tail. She was spotted and caught by a small fishing boat, and a SeaWorld team (with assistance from the Harbor Branch Oceanographic Institute) brought her to the Clearwater Marine Aquarium. Her condition was critical for a few days, and she was not expected to live. Despite this she survived, but was left with a stump for a tail. Originally it was thought that Winter would have to learn to swim without a tail. This forced her to switch her swimming style from "up and down" to "side to side", and her veterinarians were afraid that would damage her spine. Kevin Carroll, Hanger Prosthetics and Orthotics Vice President of Prosthetics, MS, CP, FAAOP who had designed prosthetics for other animals (including dogs, an ostrich and a duck), volunteered to help.
Helpful Links
Dolphin Tale - Click to watch the theatric movie trailer and get more information about the cast of Dolphin Tale.
Clearwater Marine Aquarium - Click to learn more about the Clearwater Marine Aquarium, home of Winter the Dolphin. Adults and kids of all ages are coming from all over the country to meet Winter and get their picture taken with the CMA's very own Movie Star!
Winter the Dolphin Souvenirs – Click to be directed to CMA's site to purchase memorabilia for Winter the Dolphin including t-shirts, stuffed animals, keychains, overnight bag, beach towels, Nintendo DS game, paintings, posters and even a Junior's Novel for young readers.